Statue Introduction:
This is a very beautiful geometric panther statue. It would be a beautiful addition to your modern garden. It has a unique geometric design combined with a highly polished surface. When the sun shines on the surface of such a sculpture, it is dazzling and eye-catching. The surrounding environment can be reflected on the surface of the sculpture. Therefore, although this sculpture is a sculpture with a strong sense of modern art, it can be perfectly matched with many places. In addition, we can provide you with customized services. The size, color and material of this panther statue can be customized. Our designers would create a custom design for you based on your needs and where the sculpture would be installed.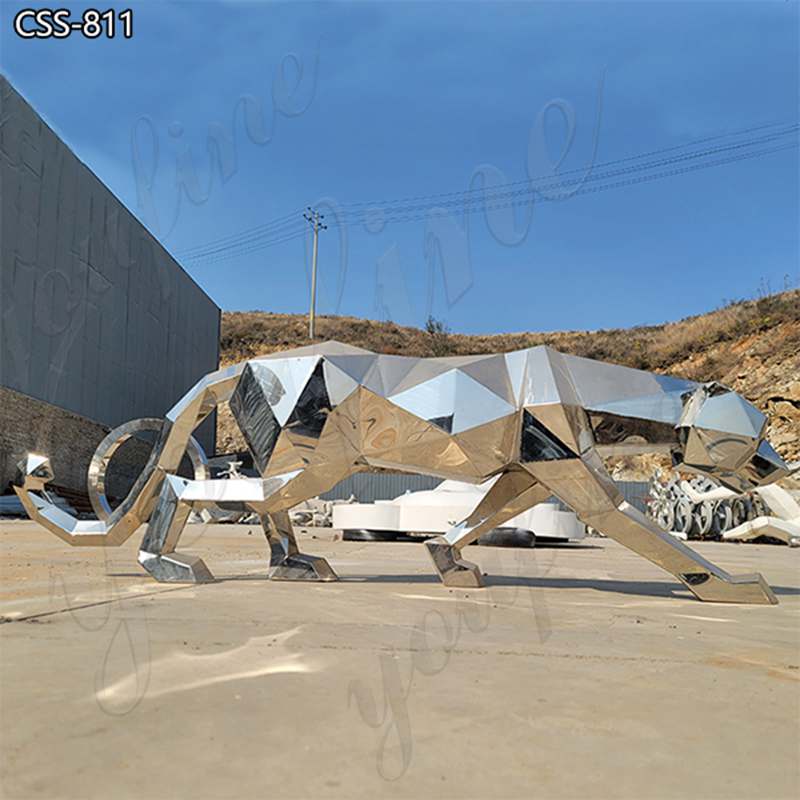 Why Choose Stainless Steel as Raw Material:
The raw material of this geometric panther statue is stainless steel. That's because stainless steel offers more than just a nice finish. At the same time, stainless steel has many advantages that other materials do not have. First, stainless steel sculptures are corrosion-resistant. Stainless steel material has the characteristics of resistance to weak corrosive substances such as air, water vapor, water, and some chemical corrosion such as acid, alkali, and salt, so many urban landscape sculptures and garden landscape sculptures are made of stainless steel materials.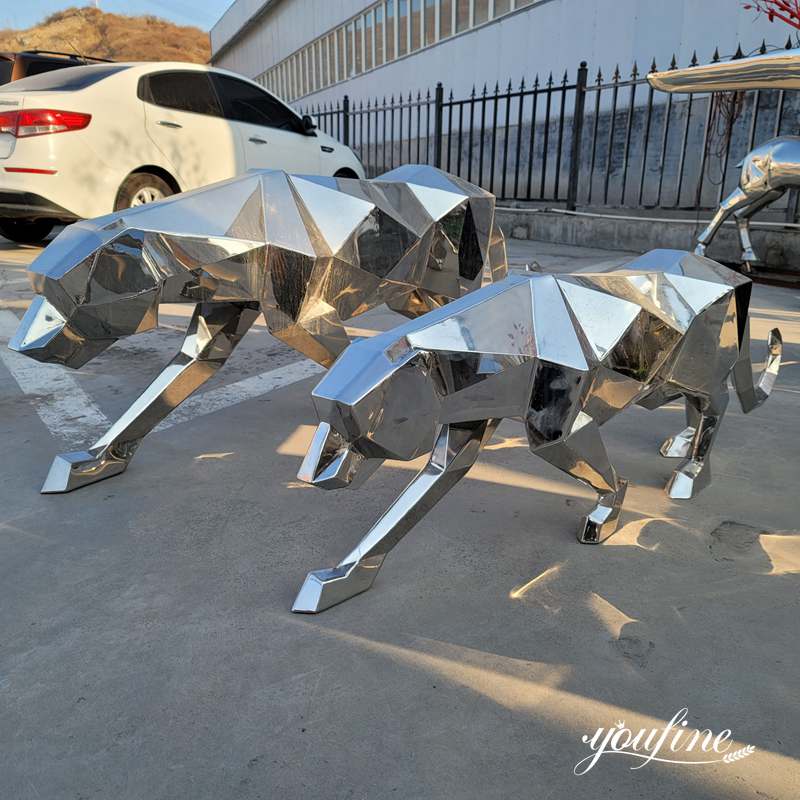 Process:
To make this geometric panther statue more suitable for you. We are also very attentive and professional in our craftsmanship. We would use a complete welding process to weld each seam. After welding, our artisans hand sand every detail multiple times to ensure perfection. And YouFine is a stainless steel factory has many years of history, with advanced technology and professional equipment. Your favorite stainless steel panther statue would have fine details.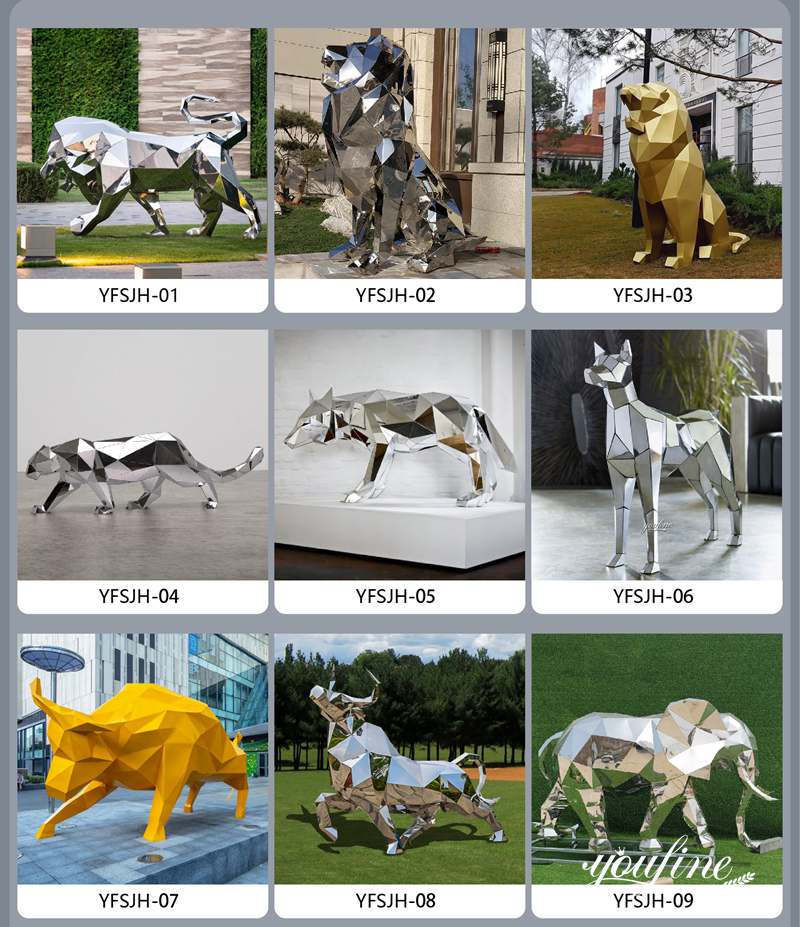 Customized Service:
As a stainless steel sculpture production factory established for many years, YouFine would provide customers with customized stainless steel sculpture services. We are a professional modern landscape sculpture design factory. At the same time, our factory has a diversified art team composed of senior design elites and academic sculptors from different regions. Relying on environmental design, we focus on the production of metal sculptures and provide customers with environmental landscape sculptures with artistic value. Therefore, we use metal deer carvings to help many customers create a high-end, harmonious, elegant and comfortable living environment.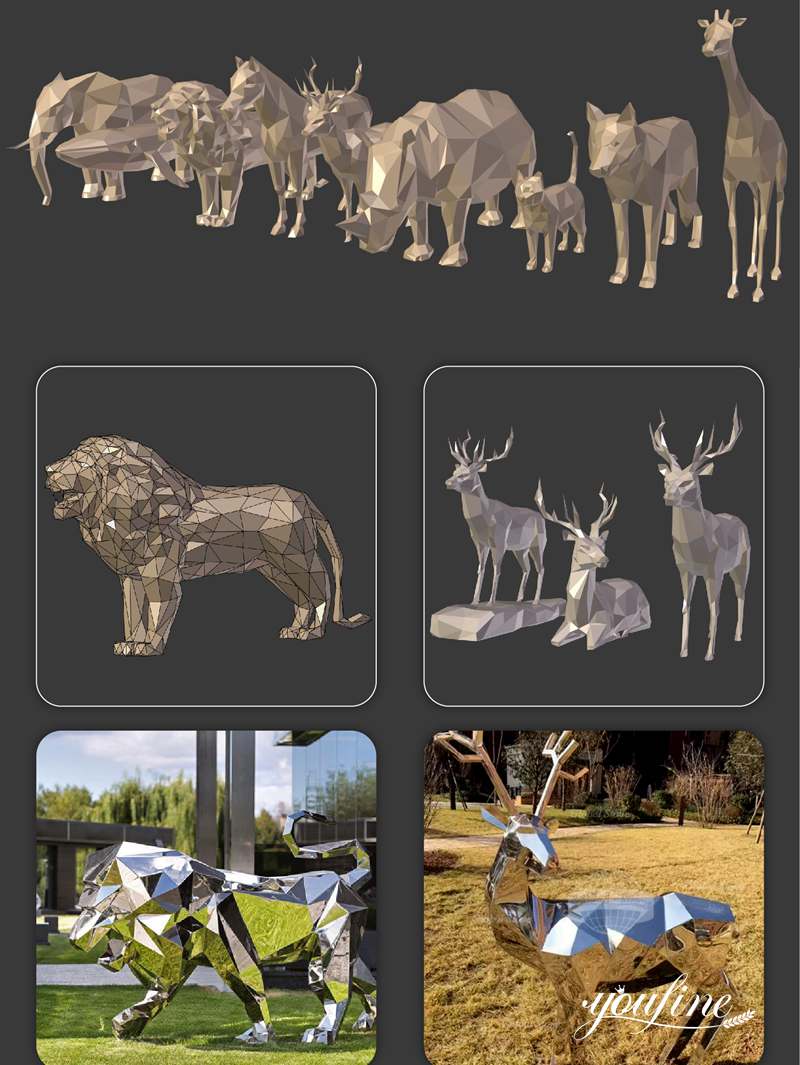 As a professional sculpture production factory, YouFine creates the most exquisite and artistic sculptures. So we can meet your different expectations and make your sculpture unique. Whatever your decorating style, you can get the most suitable sculpture design in YouFine. Please contact us for more information.