This metal rabbit sculpture

is customer feedback from South Korea. This customer placed an order with us in October. The client wanted a pair of large

white rabbit sculpture

s as a decoration for their large shopping mall. There is a large public square in their shopping center, and our client just wants to decorate such a rabbit sculpture in the square. After a series of discussions, we finally determined the design of the rabbit sculpture, as shown below.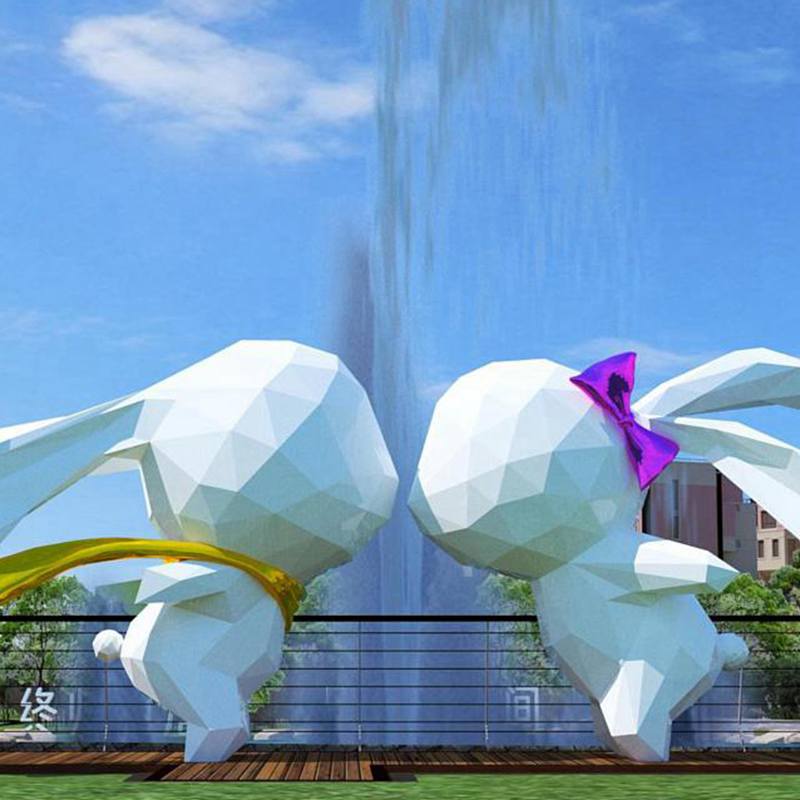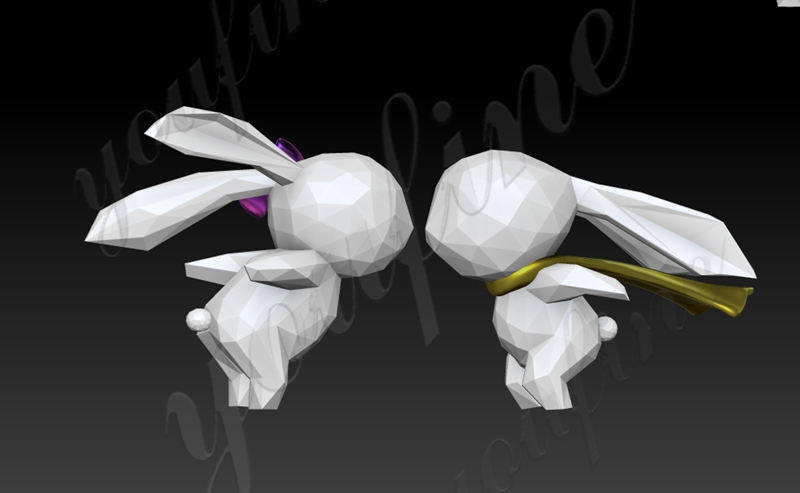 After the design of the metal rabbit sculpture was determined, our designer changed some details of the design for our client according to the customer's needs. At the same time, our professional design team has also produced 3D drawings that meet customer expectations according to customer needs for customer inspection. Our customer made some slight changes to the decoration on the scarf and bunny ears. 
After our 3D drawings were inspected by the customer, the customer was also very satisfied and confirmed the order as soon as possible. When our customers choose suppliers at that time, we are not the only ones. We also have several competitors. Moreover, our prices are not the lowest. However, in the end, we impressed our customers with our design, quality, and service. Customers conducted background checks and quality tests on us, and in the end, we won.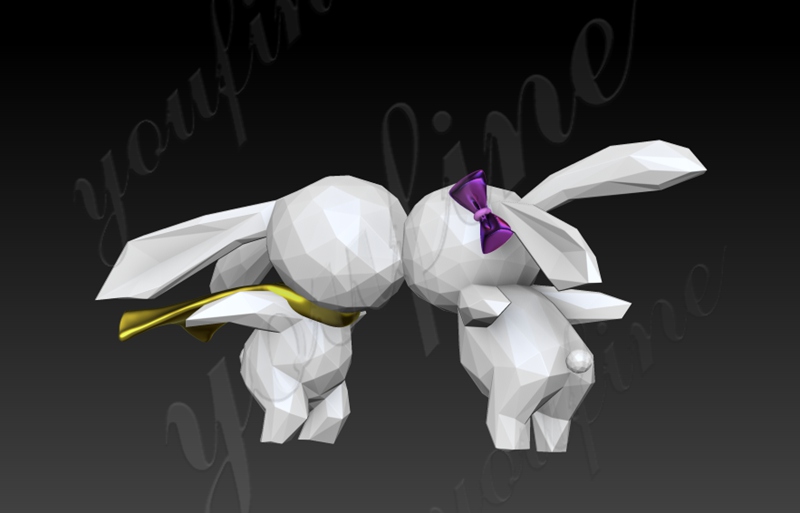 Real Customer Feedback Display of this Metal Rabbit Sculpture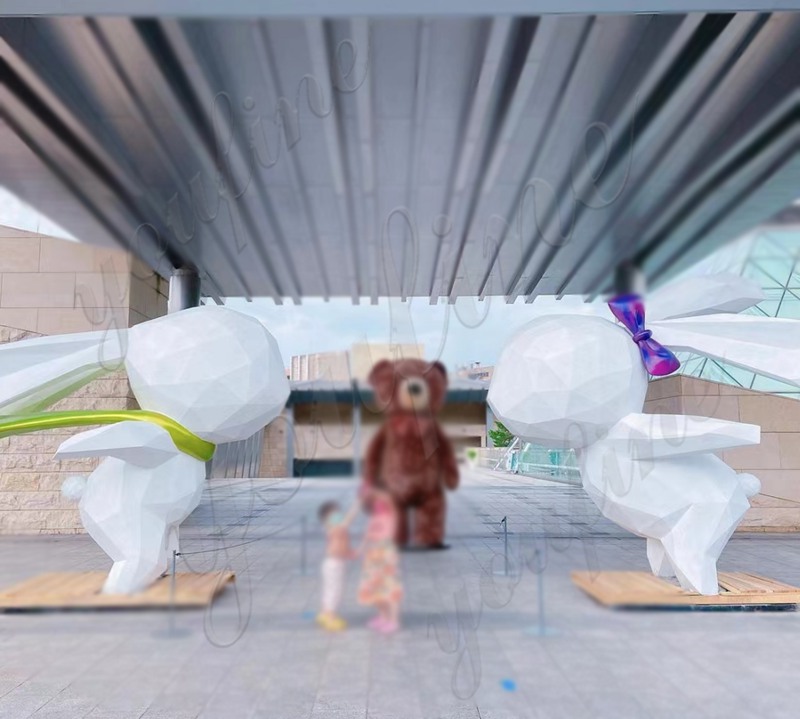 In December 2021, our metal rabbit sculpture was in front of the customer. After receiving the sculpture, our customer sent us a good customer feedback picture. In addition, our customers also told us that with this pair of rabbit sculptures, more and more tourists come to their shopping centers. They took a photo with two rabbits, especially the children. The sculpture is big enough, so it is very eye-catching in the public square.
YouFine also pays great attention to after-sales service. When the customer receives the sculpture, if they have any questions about the installation, we would also provide step-by-step instructions. This is of great help to our clients. We need to pay great attention to the safety of sculptures, especially in public squares. Moreover, our customer would start a new project in March 2022, so our second cooperation is also coming.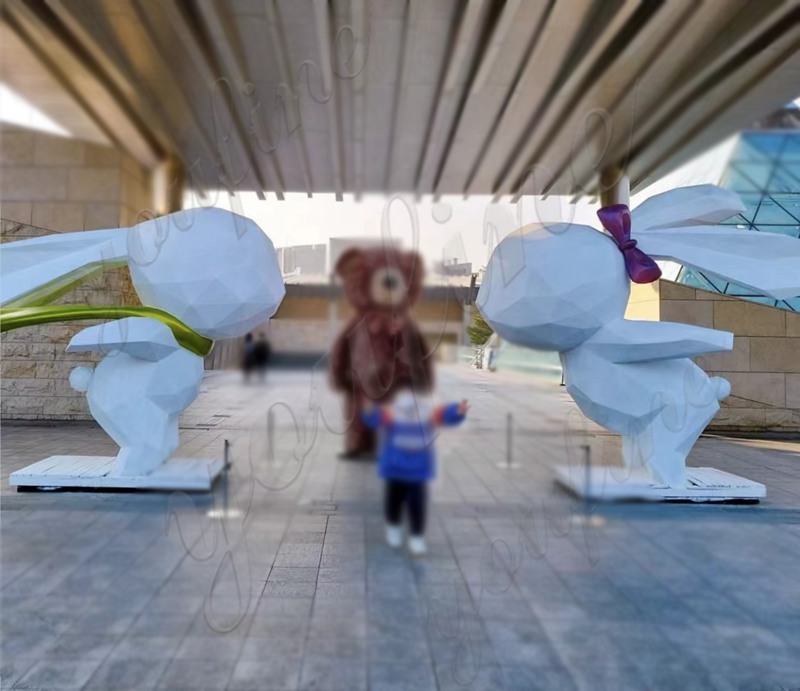 As a sculpture production factory with 40 years of experience in sculpture production and export. The quality of our sculpture is guaranteed, please contact us for more detailed information about the rabbit sculpture! Welcome to choose us.