Sculpture Introduction:
This is a metal shark sculpture made of stainless steel. Generally speaking, our customers choose to decorate such sculptures in their pools or other water-related spaces. Because sharks are marine animals themselves, they are closely related to water. So the stainless steel shark sculpture would be a very good choice when it is used as a water scenery decoration. A stainless steel tube acts as a support, allowing the shark to float on the surface of the pool as if it were a real shark swimming is really fun. People would be amazed by such a picture.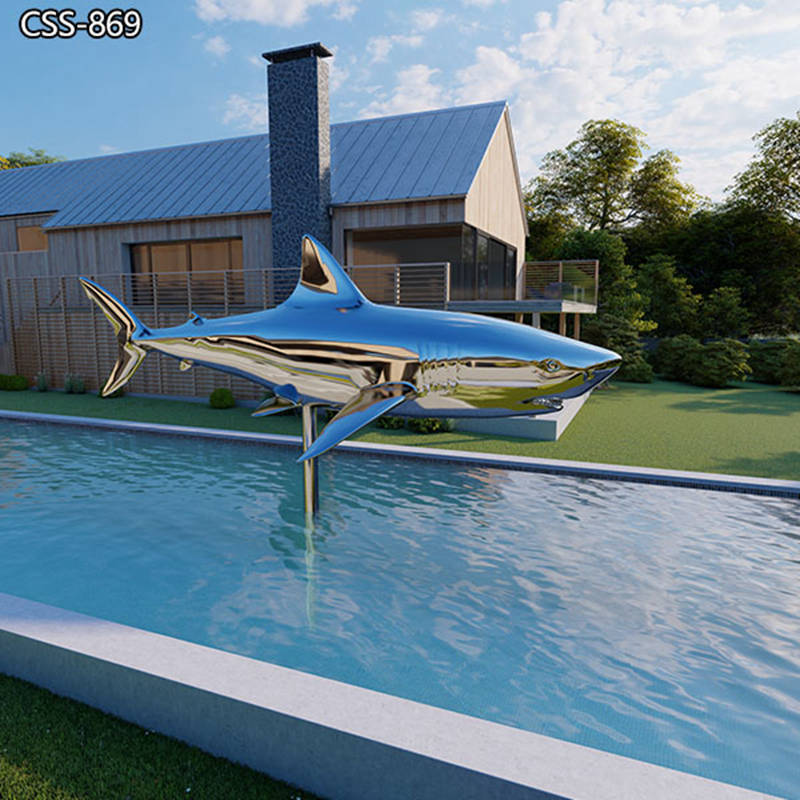 Suitable for Water Feature Decoration:
The surface of this metal shark sculpture is highly polished, so there is a lovely response to the surrounding water and its surface. When the water fluctuates with the wind, the surface of the sculpture also changes, and there are also waves of ripples so that the sculpture is no longer monotonous, but full of agility. Therefore, many customers who choose water well sculptures next to the pool would choose high-polished surface treatment or mirror-polished surface treatment, which would make their wells and their sculptures better blend together, creating a very beautiful visual feast.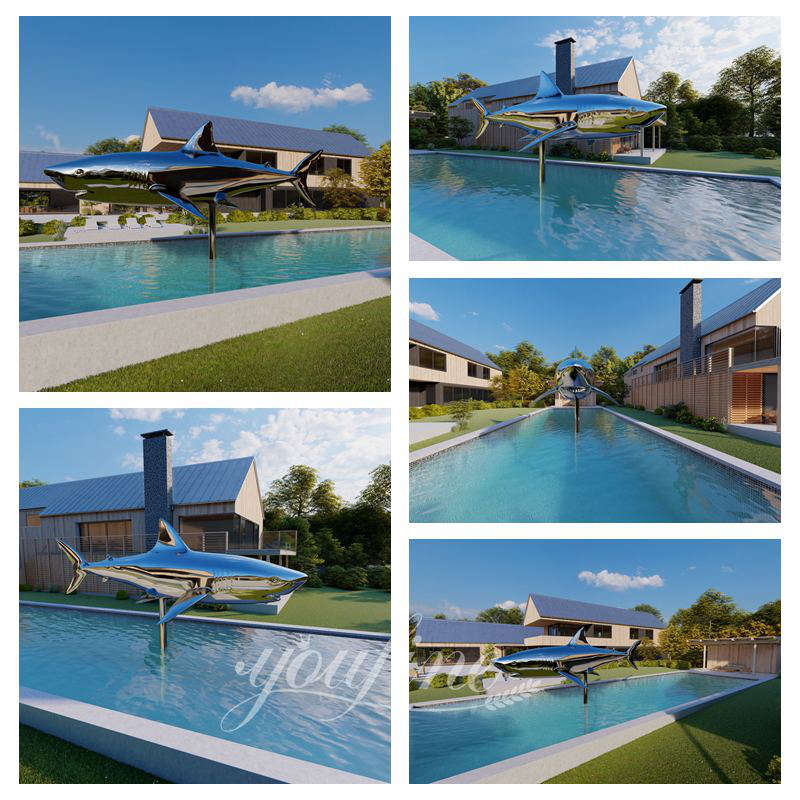 More Options:
In addition to the metal shark sculptures, we also have many other fish sculptures, such as marlins, and some small carp sculptures. Each sculpture has its own characteristics, which could be suitable for many different styles of decoration. , In addition, we also accept the size, design, and material of custom sculptures could be selected according to customer needs, and we would do our best to meet all the needs of customers.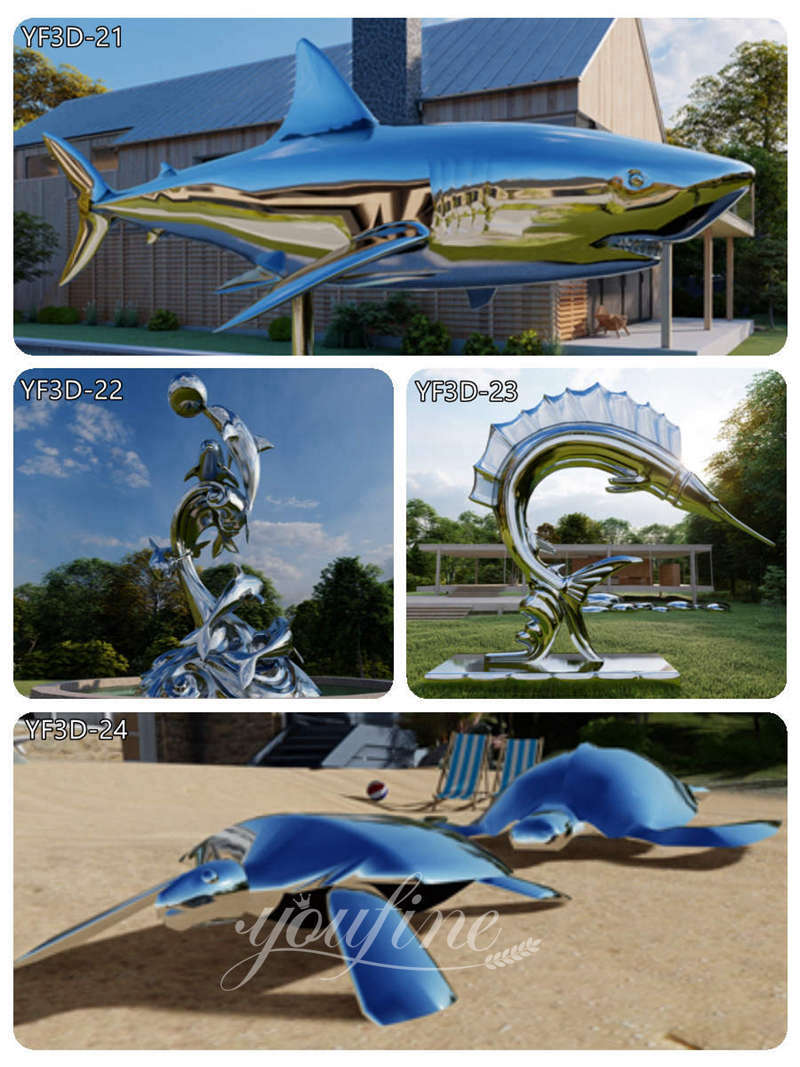 YouFine is a Good Metal Sculpture Supplier:
YouFine is a sculpture production factory established in 1983. We have very rich experience in making metal sculptures. Our stainless steel sculptures usually choose stainless steel above 304 grade as raw materials, so our stainless steel sculptures have very good corrosion resistance and long service life. The stainless steel sculptures we sell are all Very satisfied customers. And because we are factory direct sales, the price of our stainless steel sculpture is also very good, in the case of the same quality, we could guarantee that our price is the best.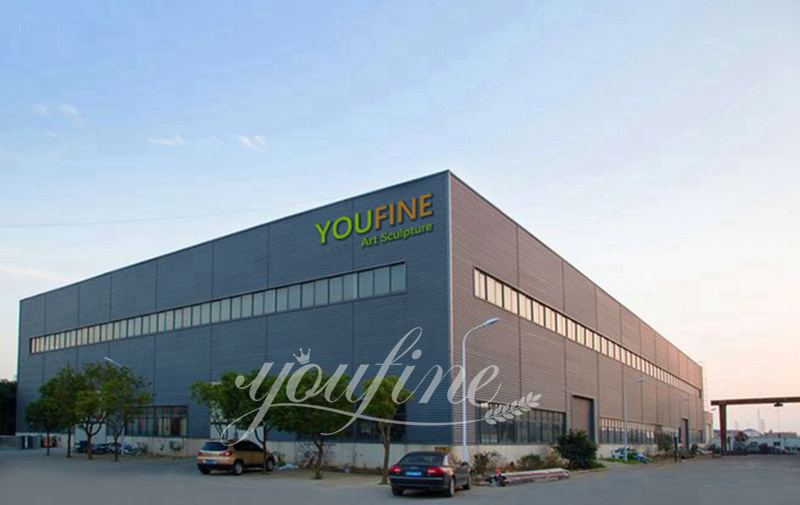 We are committed to letting sculptures enter thousands of households and letting more people appreciate the beauty of statues, so we have always guaranteed to sell our stainless steel sculptures at the best factory wholesale prices, so if you are interested in our sculptures, please feel free to contact us.