Wow, what a shocker to see a giant Metal Bunny Sculpture in someone's outdoor garden! This stainless steel rabbit sculpture is truly a remarkable masterpiece. Aside from its massive size, the stainless steel rabbit looks almost lifelike with its human-like posture while holding a book, which is just hilarious. When a sculpture like this appears in a client's outdoor garden, it's sure to catch everyone's eye and be a successful outdoor art installation.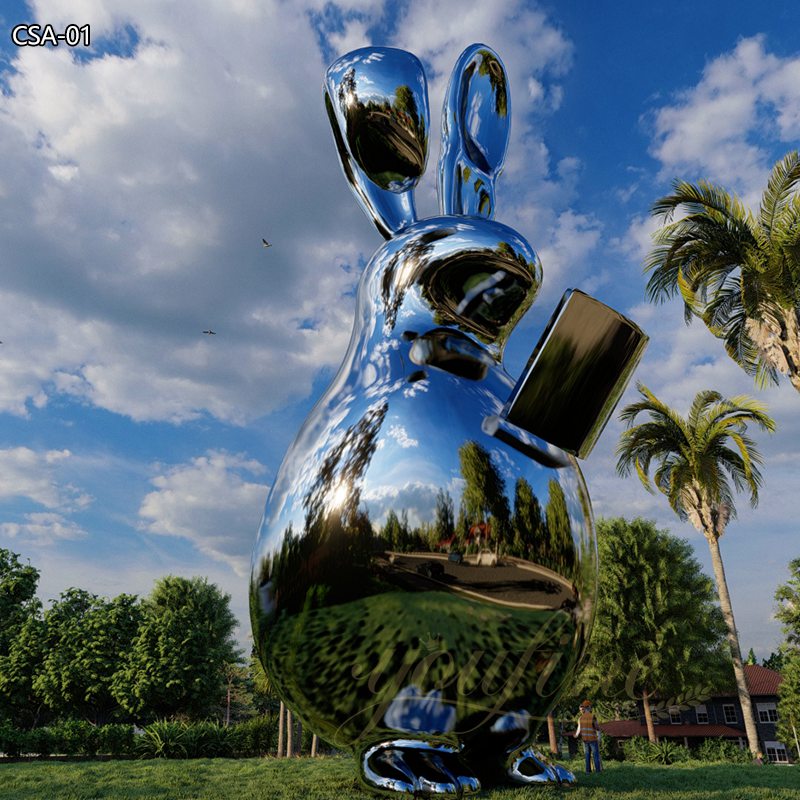 The Stunning Visual Effect of the Rabbit Sculpture
Our Metal Bunny Sculpture features a polished mirror finish, creating a stunning visual effect. If desired, the entire sculpture could be polished to a mirror-like smoothness, which reflects the surrounding environment. This allows the stainless steel rabbit sculpture to harmoniously coexist with its surroundings and exude a unique charm.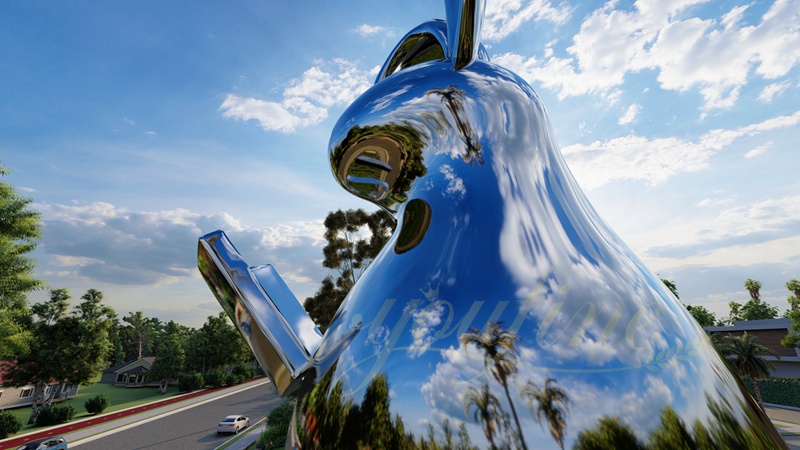 YouFine's Dedication to Stainless Steel Sculpture Production
At YouFine, we take great pride in our expertise and professionalism in the field of stainless steel sculpture production. With over three decades of experience, we have perfected our craft and are dedicated to delivering high-quality and durable outdoor sculptures that meet and exceed our clients' expectations. We have also participated in the construction of many large landmark projects. So, if our clients need to produce such a huge rabbit sculpture on their premises, choosing YouFine would be worry-free and effortless. Our team of skilled artisans and engineers work closely with our clients to ensure that each project is executed flawlessly from start to finish. We use the latest technology and equipment to create sculptures that are not only visually stunning but also structurally sound and safe.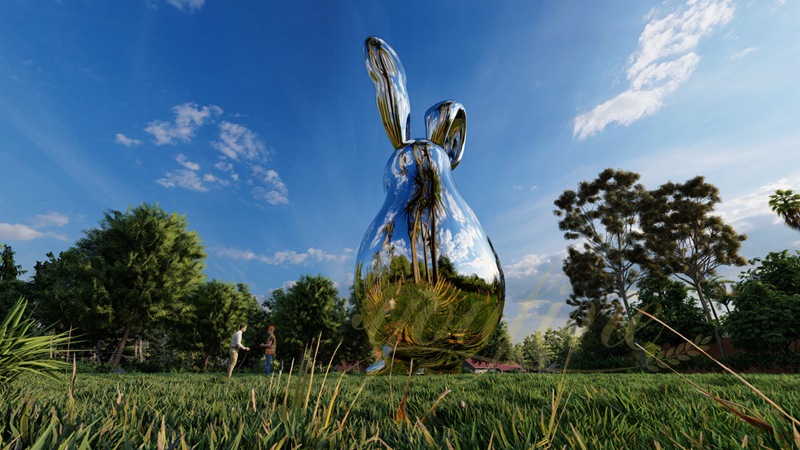 Ensuring the Structural Soundness and Aesthetic Value of Sculptures
Furthermore, we prioritize safety in all of our projects, using only the highest-quality materials and employing rigorous quality control measures throughout the production process. Each sculpture undergoes thorough testing and inspection before delivery to ensure that it meets all safety standards and regulations. In short, when you choose YouFine, you could trust that you are working with a team of experienced and dedicated professionals who are committed to delivering exceptional quality and craftsmanship. We strive to exceed our clients' expectations and make their visions a reality.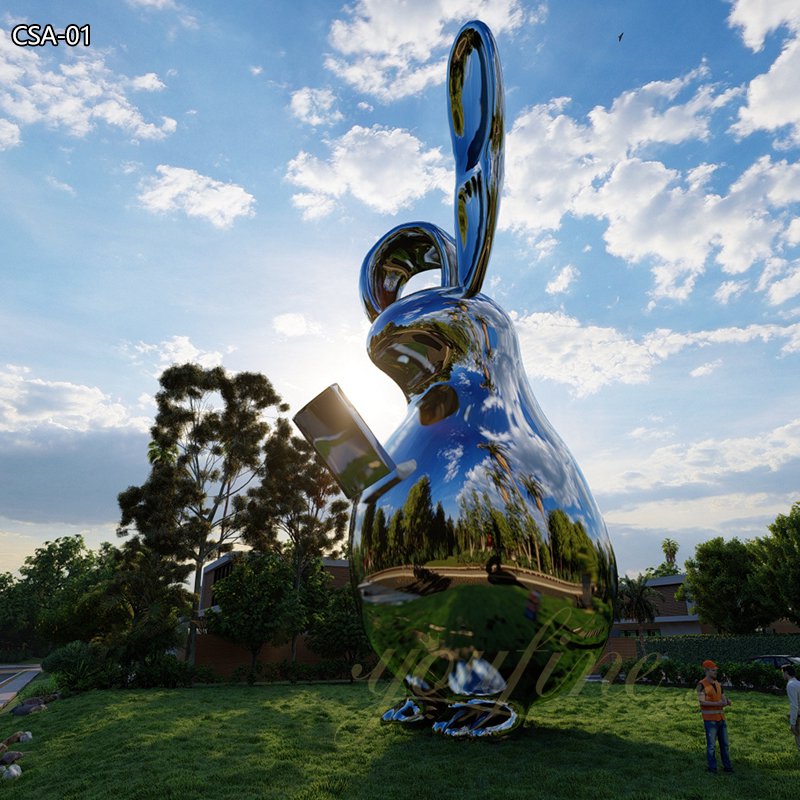 Crafting Unique Projects: YouFine's Personalized Approach to Client Collaboration
We would first discuss with the client the environment in which the sculpture would be placed, and then create a perfect and suitable sculpture production plan based on the client's needs. Then, we would meticulously craft these sculptures. We guarantee the safety and aesthetic effect of our sculptures. Ten years ago, we installed a large landmark sculpture in Saudi Arabia, and it still looks like new today, being both safe and beautiful.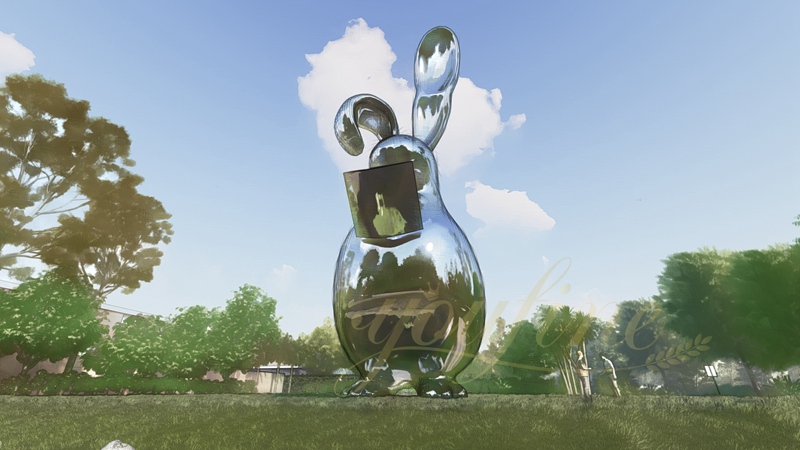 We know that all projects are unique, and we are interested in building a connection with our clients. We believe that every project begins with finding common ground to achieve the best solution and accomplish your goals. If you are interested in our sculptures, please feel free to leave a message below our page, and we would promptly answer your questions and provide you with the perfect Metal Bunny Sculpture production plan.