Corten Steel Garden Sculpture Introduction:
This is a very beautiful Corten Steel Garden Sculpture. Inspired by tree trunks, show us an abstract and captivating design. The design of this sculpture highlights the edges and corners of the tree trunk, showing the image of an upwardly growing tree horizontally and vertically. Using corten steel as the material, the color is close to the color of the trees, and it forms a sharp contrast with the green lawn. Such metal sculptures are suitable for the decoration of outdoor gardens, parks, lawns, and other places.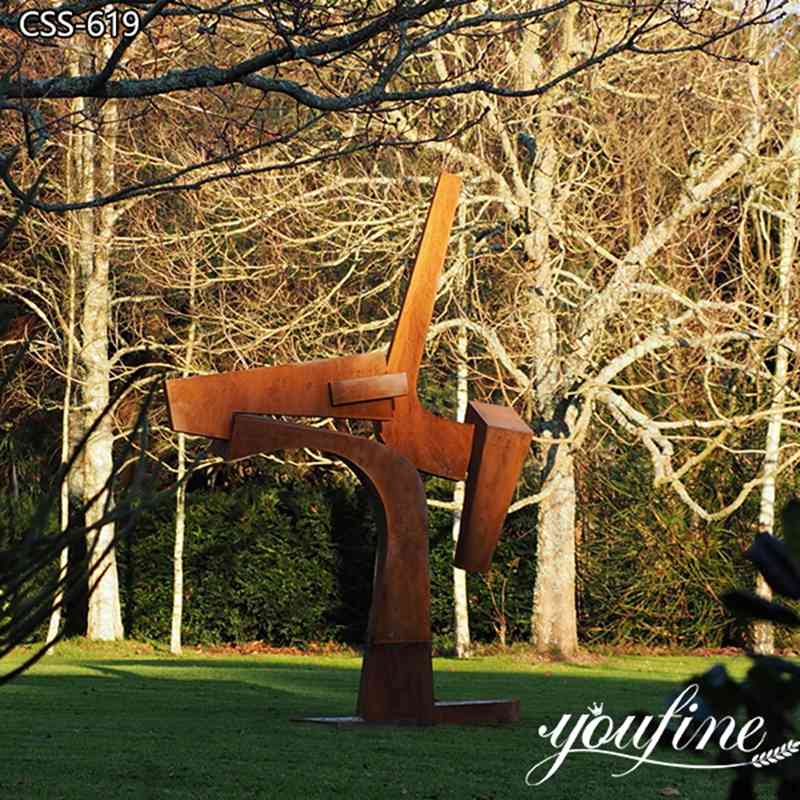 Why Choose Corten Steel as Raw Material?
Corten steel is mild steel that contains additional alloying elements mixed with carbon and iron atoms. These alloying elements give corten steel better strength and higher corrosion resistance than typical mild steel grades. Corten Steel has many advantages, including maintenance and longevity. In addition to its high strength, corten steel is very low-maintenance steel. With protective rust that provides corrosion resistance, corten steel could last from decades to over 100 years. So this Corten Steel Garden Sculpture would become your long-lasting decoration and serve you for many years.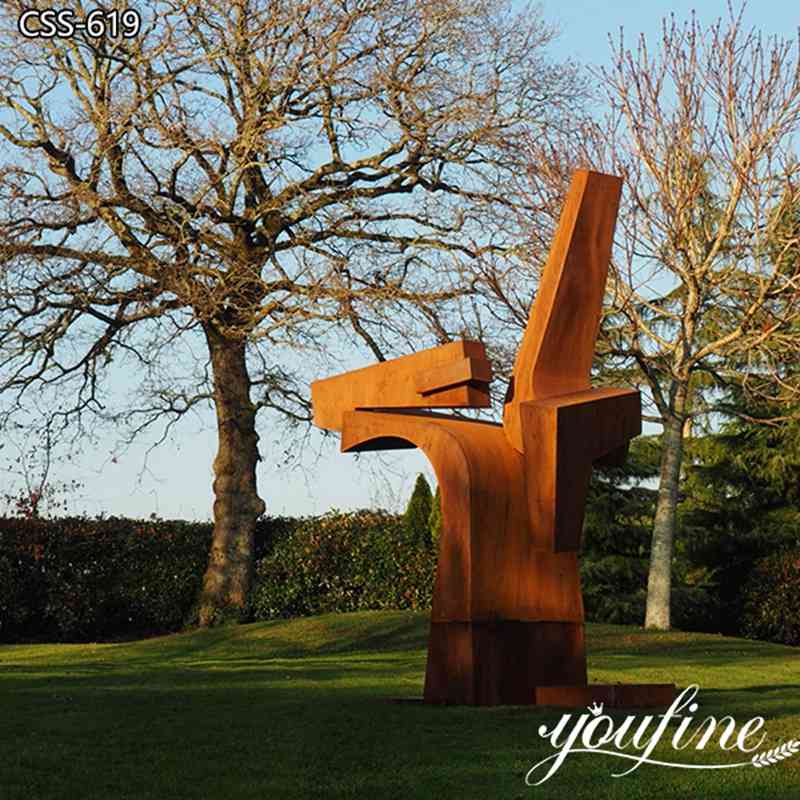 Production Process:
Step 1: Choose the right corten steel sheet
Step 2: Design of the corten steel pattern
The third step: the cutting of the steel plate The first is to cut the corten steel plate into the required size according to the designed size
Step 4: Welding of corten steel After the cutting is completed, the corten steel must be welded according to the design drawings. The welding of corten steel uses a special electrode, which has certain technical requirements.
Step 5: Polishing After the welding is completed, there would be welding spots and some defects on the surface of the corten steel, which requires grinding and polishing.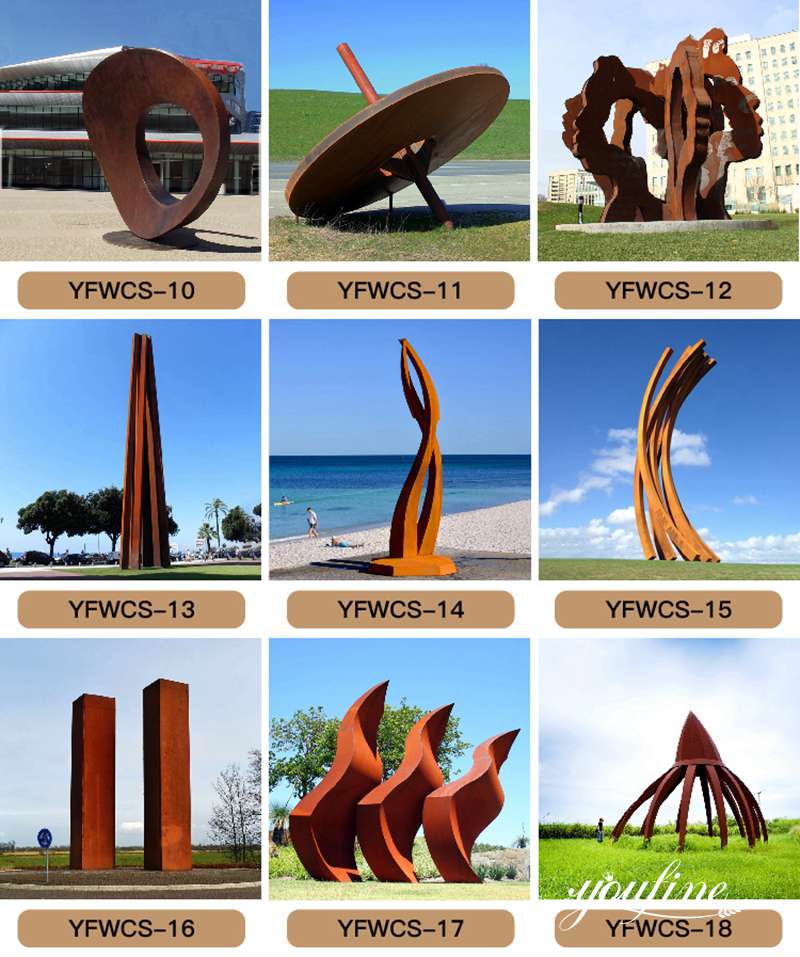 The sixth step: artificial rust of corten steel plate Use rust agent for artificial rust treatment. In this process, we must first clean the surface to remove the oil and dust on the surface of the steel plate. Then spray the rust accelerator and wait for 5-10 minutes. Afterward, rinse with clean water and dry (to complete the rust promotion). If you feel that the rust layer is light in color, you could continue to water the workpiece or apply a rust accelerator one more time. If you want the rusted surface to be resistant to friction, you could use a rust fixer. After these are over, a bright and charming Corten Steel Garden Sculpture would appear in front of us.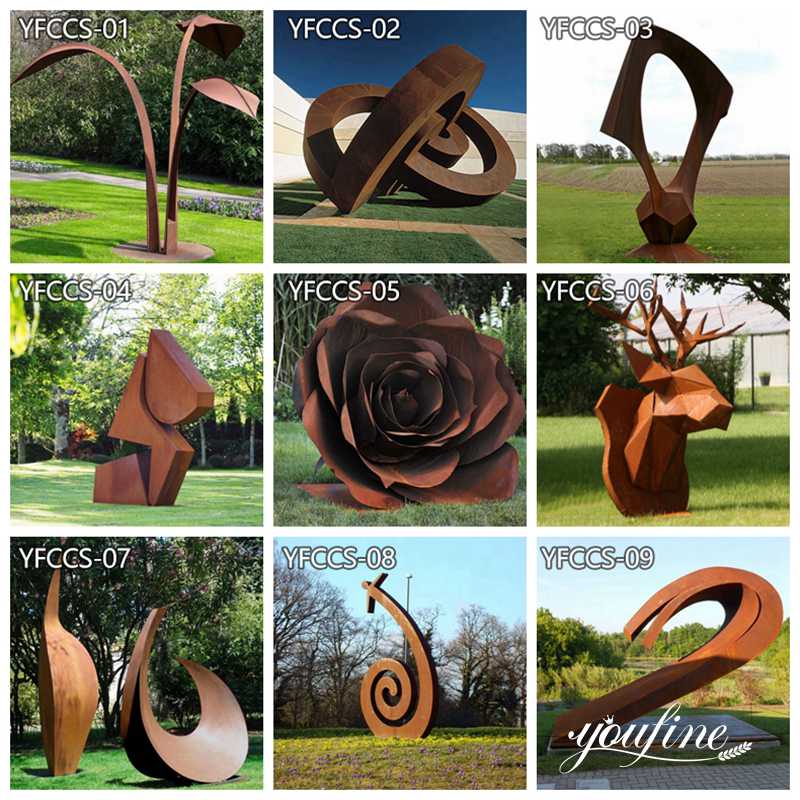 If you are interested in such outdoor corten steel art, please feel free to contact us for more information. Buy now with a discount.